The journal is a peer-reviewed edition that supports a policy of open access to scholarly publications.
Year of foundation: 2010
Field of science and issues in focus: Conference proceedings depict the latest achievements in the research of library and information science - revealing emerging trends and new ideas before they appear in influential scholarly journals. Conference proceedings offer broad coverage of new ideas, methodologies and projects in fast-moving areas of research related to the activity of university libraries in education, science and culture.
ІSSN 2707-0476 (Online)
Frequency: Once per year
Language of publication: English, Ukrainian (in mixed languages)
Founder: Dnipro National University of Railway Transport named after Academician V. Lazaryan
Address of editorial office: Lazaryana St., 2, room 267, Dnipro, Ukraine, 49010
Phone: +38 (056) 371-51-05,
Email: chief.library@gmail.com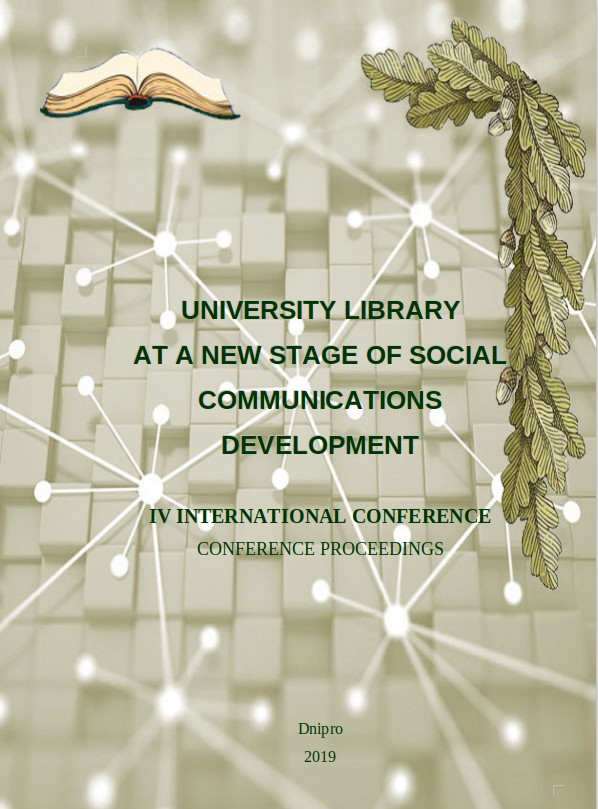 Announcements
The new (IV) issue of Conference Proceedings Journal

Today we are presenting the new (IV) issue of Conference Proceedings Journal University Library at a New Stage of Social Communications Development.
Posted: 2019-12-23
More...
No 4 (2019)
Table of Contents
EDITORIAL
STRATEGIC PARTNERSHIP
MANAGEMENT AND MARKETING AT THE UNIVERSITY LIBRARIES
FUNDS OF LIBRARIES
LIBRARY SERVICES IN SUPPORTING UNIVERSITY SCIENCE
CHANGING ROLES: FROM INFORMATION PROVIDERS TO EDUCATORS
THE CONTRIBUTION OF THEORY AND RESEARCH TO THE TRANSFORMATION OF LIBRARIES